Regular price
Rs. 230.00
Sale price
Rs. 230.00
Unit price
per
Sale
Sold out
No chemicals or preservatives, just more nutrients and organic love when you order
Jowar Rava
online from Organic Wisdom. It's now easier to get traditional taste and wisdom back into your kitchen using our
100% organically grown
Jowar Rava, with complete traceability to farmers. Make jowar a part of your everyday diet and experience wonderful health benefits.
BENEFITS
Packed with MAGNESIUM, VITAMIN B, ZINC, COPPER and high level of ANTIOXIDANTS
High in DIETARY FIBRE helps in fighting obesity
100 gm of Jowar provides 11 gm of PROTEIN which helps in cell regeneration & healthy body weight
Goof for HEART HEALTH as FIBER component helps lower bad cholesterol
LOW GLYCEMIC INDEX, makes it a healthy millet for diabetic people.
With organic jowar or jonna rava, you can make numerous tasty meals/snacks such as Jowar Upma, Jowar Dhokla, Jowar Ladoo, Jowar Pulao, Jowar Cheela and many more.
Categories : Jowar/Sorghum, Jowar rava, Healthy Breakfast, Ready to cook meals, Sorghum Rava, Jonna Rava, Gluten Free, Super food for kids, Diet Food, Low GI, Organic Millets, Wheat alternative
Why Us?
Highlights
Ingredients
Reviews
Why Us?
With Organic Wisdom, you always know where your millets are coming from. We take pride in being obsessed about the quality of millets that we offer to thousands of families across the country.
Our jowar/sorghum is locally and sustainably sourced from dryland region of Maharashtra. Since, region receives scanty rainfall, this ensures millets produced in this region are naturally grown and residue free. With our online organic store, you can order jowar rava online and enjoy the traditionally grown millets at ease.
Highlights
Natural Farming
0% Preservatives
0% Colours
0% Flavours
Ingredients
Reviews
Share
View full details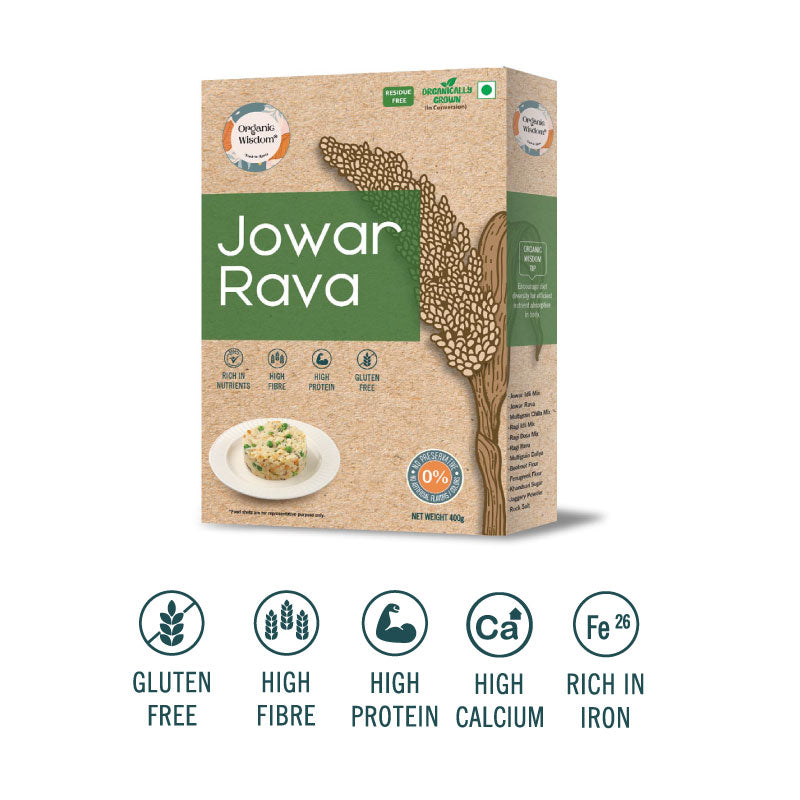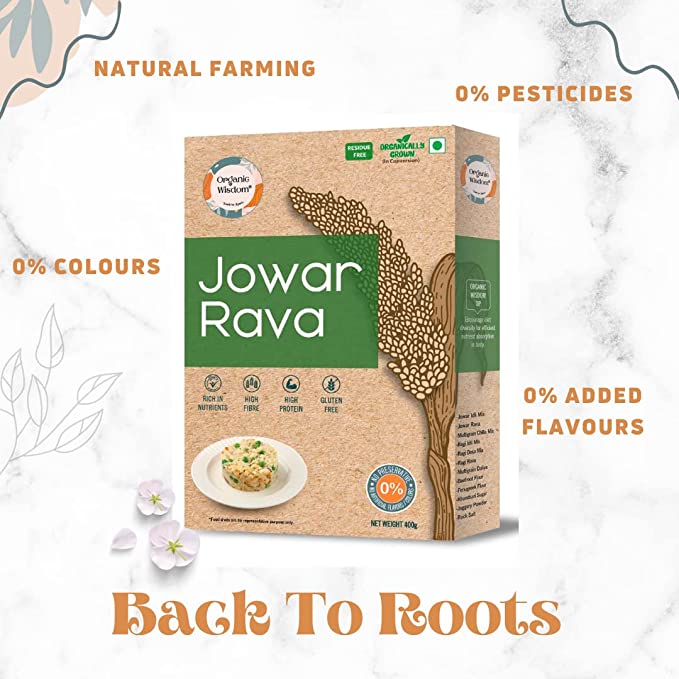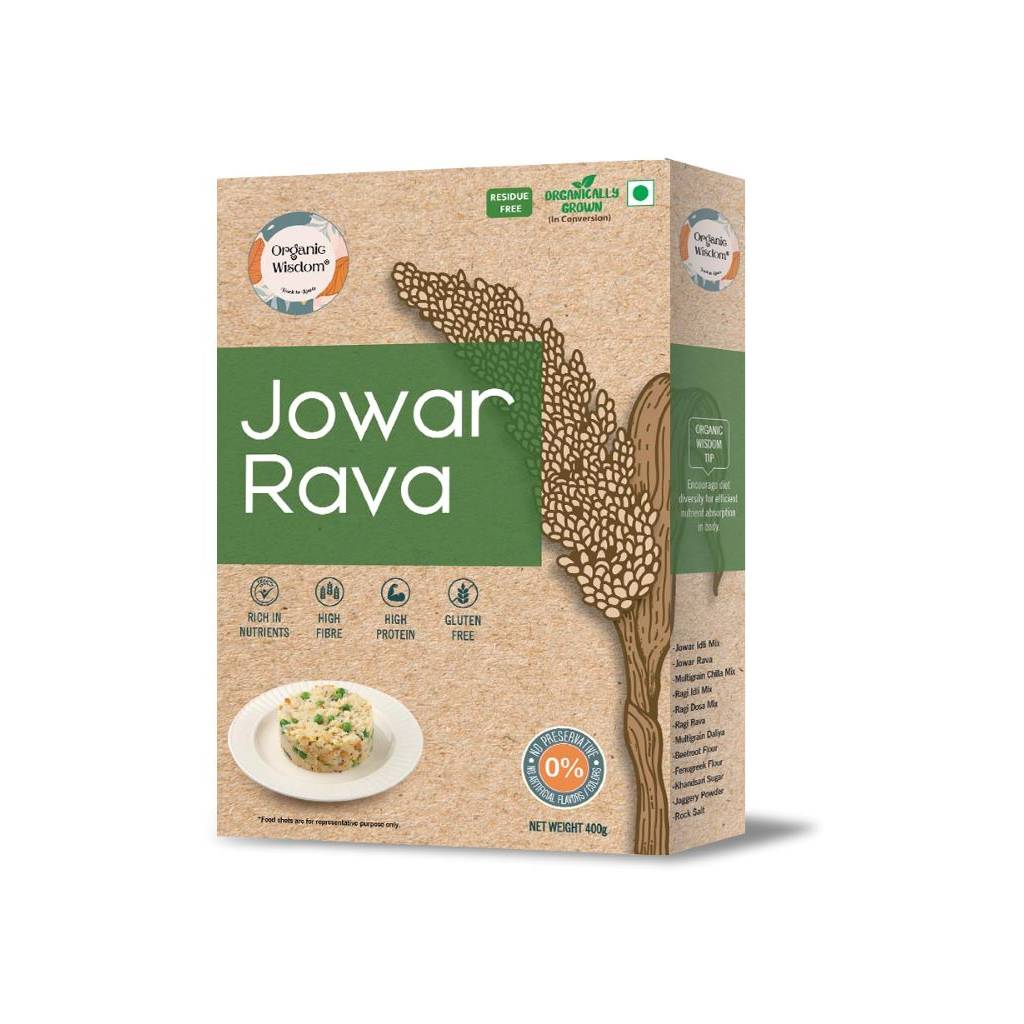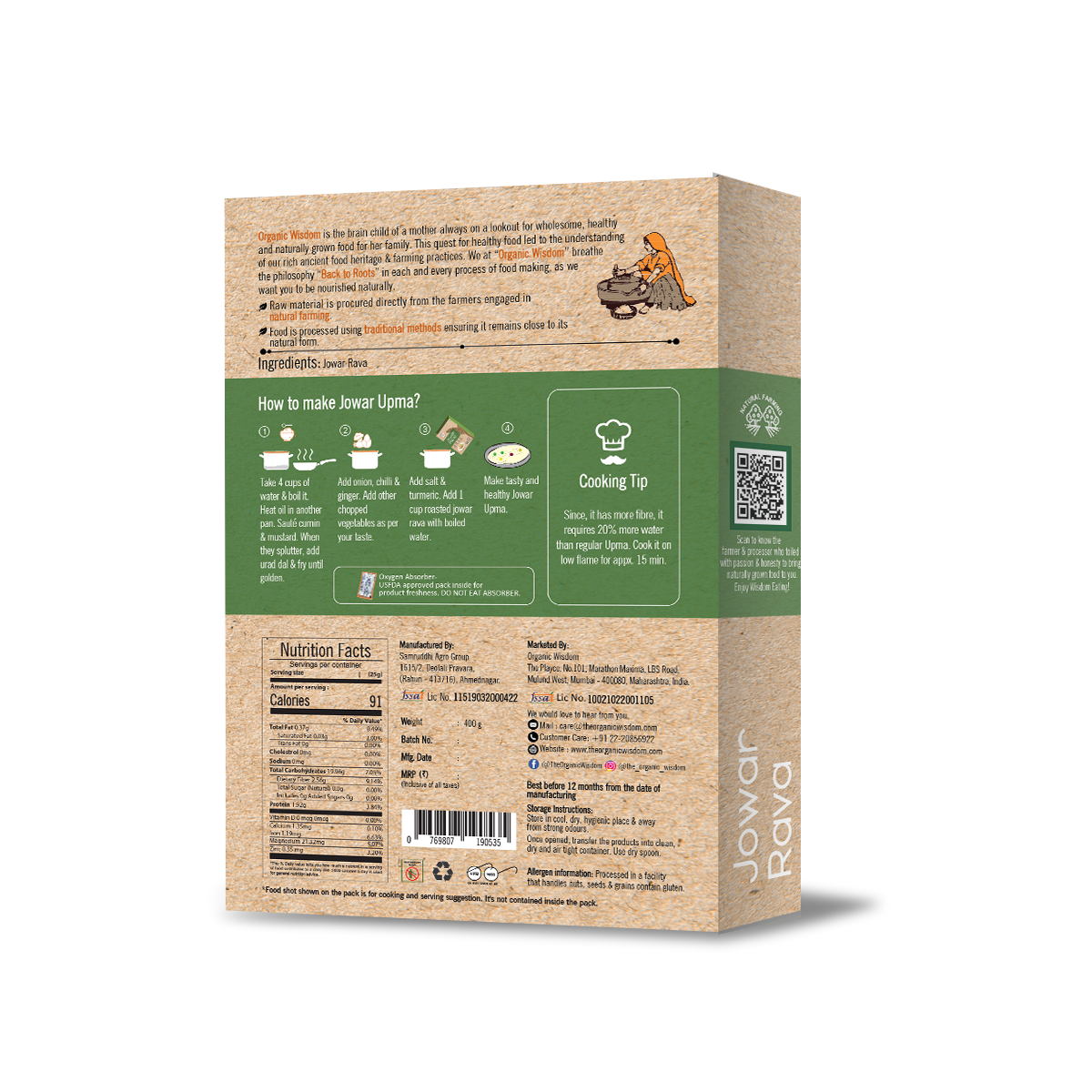 Recipe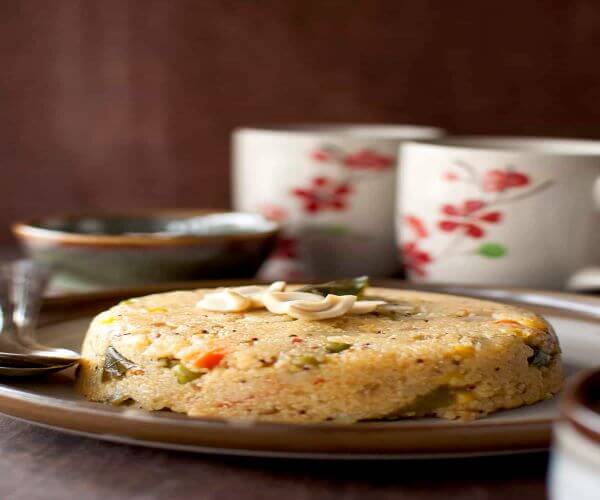 Jowar (Sorghum) Upma Recipe
Jowar Upma is a healthy breakfast recipe. It is easy to make, delicious and will help you stay energised for a longer time. It's very healthy for kids as Jowar is rich in Protein, Fibre, Calcium, and Magnesium along with Copper & Iron. Even if you are planning to loose weight, this gluten free millet can be very helpful given its high dietary content. With Organic Wisdom' Jowar Rava, start your day with a nutritious & delicious breakfast.
Preparation time: 10 min
Cooking time: Just gets ready in 20 minutes
View Recipe