Regular price
Rs. 390.00
Sale price
Rs. 360.00
Unit price
per
Sale
Sold out
Want to have something yummy but healthy. Your wait ends with Organic Wisdom's Multi-Millet Noodles-blend of 8 major & minor millets. With the goodness of Jowar, Ragi, Bajra, Kodo, Barnyard, Little Millet, Foxtail & Whole-Wheat, now indulge guilt free in your favourite delicacy.
Contains 2 packs & Noodle masala
BENEFITS
Adequate amount of VITAMIN B1 helps in HEALTHY MENTAL WELLBEING.
14.3g of PROTEIN (per 100 g), helps in BONE STRENGHTENING.
Presence of HIGH FIBER & TRYPTOPHAN helps in digestion & aids weight loss
High CALCIUM help in good BONE & TEETH HEALTH.
Rich in IRON, helps in FIGHTING ANAEMIA.
Millets contain major and minor nutrients in good amount and are rich in fiber. Millets have low GI making it an excellent substitute for people with diabetic issues. It has innumerable benefits and before green revolution, millet was an integral part of our rich traditional Indian diet. If you are looking for good mental well-being of your child or healthy hair/skin or weight loss or a healthy body, millets are a must. We also offer foxtail millet noodles.
Categories : Foxtail Noodles, Kangni Noodles, Multi-Grain Noodles, Wheat Noodles, Millet Noodles, Jowar, Bajra, Ragi, Kodo, Barnyard, Little Millet, Hakka Noodles, Protein Rich Food, Super food for kids, Diet Food, Low GI, Organic Millets, Wheat alternative, Healthy meals
Why Us?
Highlights
Ingredients
Reviews
Why Us?
At Organic Wisdom, we closely work with handpicked farmers and ensures the supreme quality of food by controlling the entire process from seed to platter wherein the complete ecosystem (farmer/processor/consumer) is managed by us.
We offer whole range of organic & gluten free millets in delicious & easy to make pre-mixes on our online organic food store.
Highlights
Natural Farming
Indian Superfood
0% Preservatives
0% Colours
0% Flavours
0% Maida
0% Added MSG
0% Trans fat
Ingredients
Ingredients (Noodles): Finger millet flour, Pearl millet flour, Sorghum millet flour, Kodo millet flour, Barnyard millet flour, Little millet flour, Foxtail millet flour, Whole wheat flour, Cluster bean powder (natural gum), Iodized salt.
Ingredients (Tastemaker): Coriander seeds powder, red chilli powder, onion powder, garlic powder, ginger powder, cumin, turmeric, curry leaves, fennel seeds, black pepper, cassia, bay leaves, fenugreek, star aniseed, clove, nutmeg, salt, unrefined cane sugar, acidity regulator(INS330).
Reviews
Share
View full details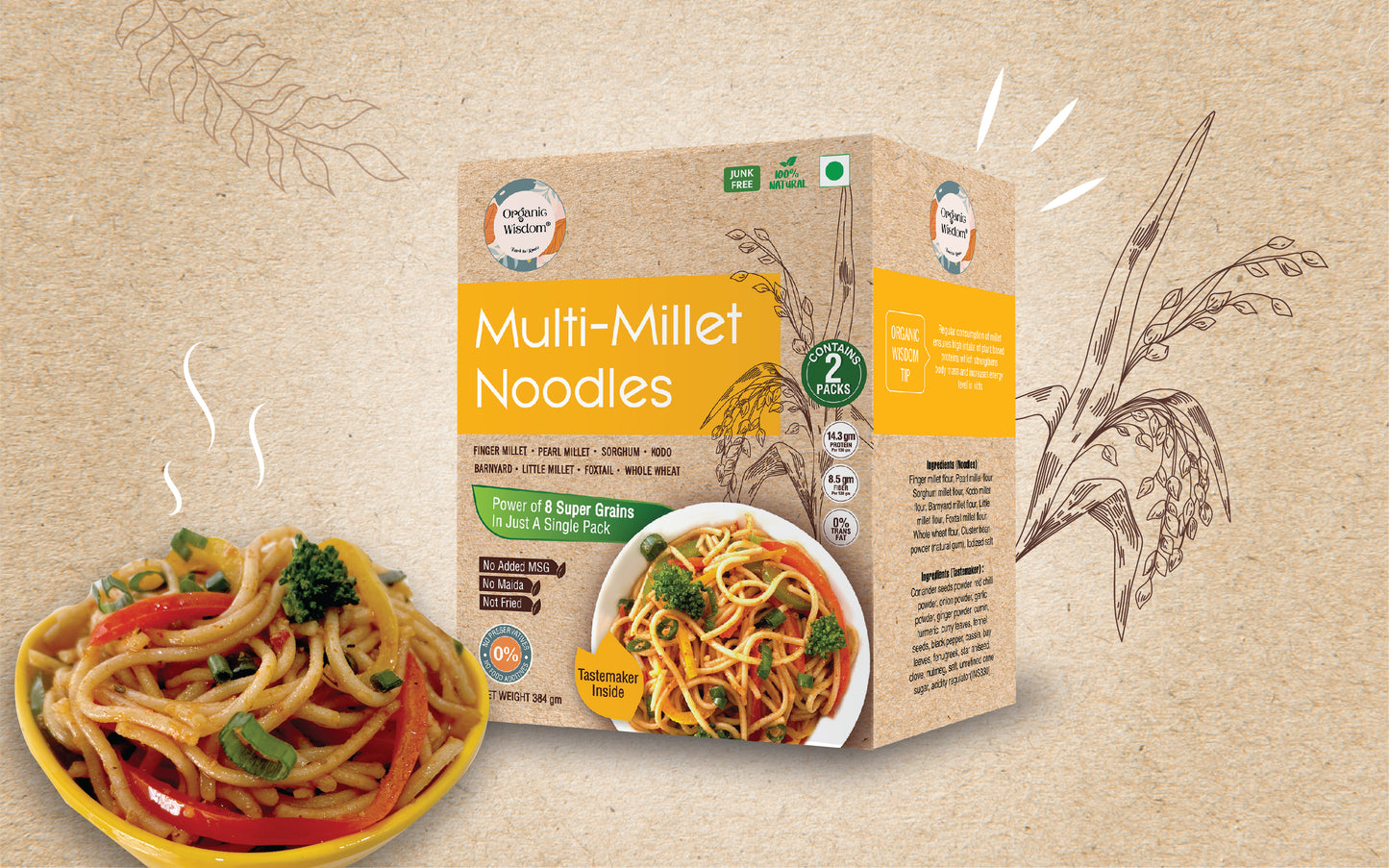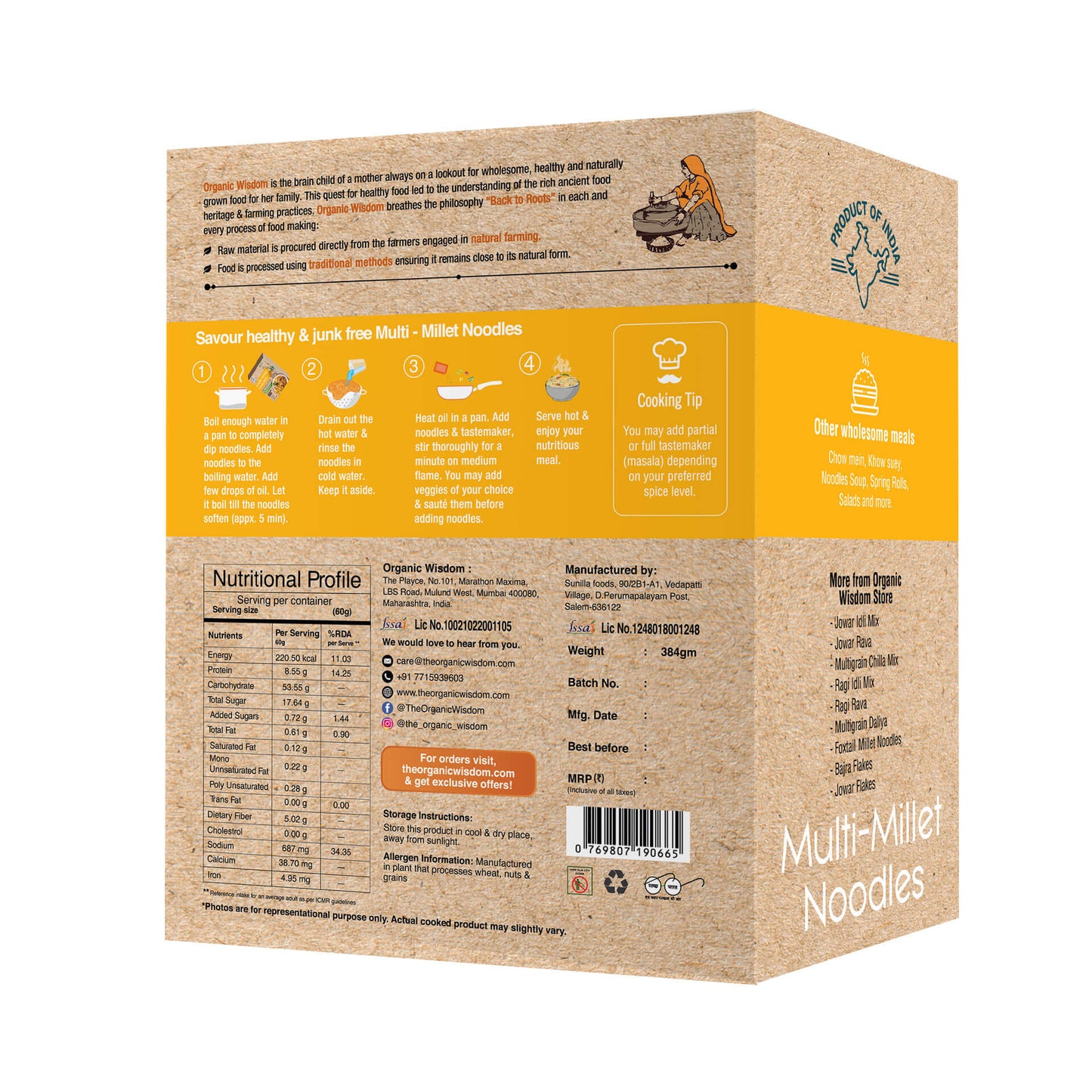 Recipe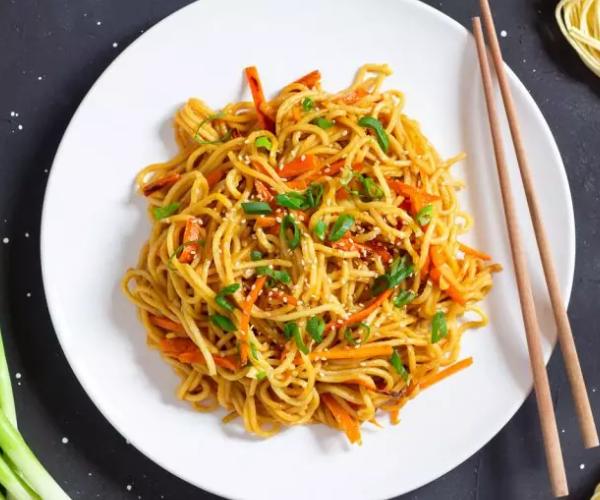 Multi-Millet Noodles Recipe
Multi-Millet Noodles are a fresh & healthy alternate to regular noodles. Goodness of millets coupled with the fact that these are free from Maida, MSG and are not fried make them super healthy yet yummy meal for you and your home. Organic Wisdom's foxtail noodles are of supreme quality and each box contains two packs along with tastemaker.
View Recipe