Regular price
Rs. 260.00
Sale price
Rs. 250.00
Unit price
per
Sale
Sold out
With this instant Ragi Dosa Mix, you can be confident of providing a nutrient rich meal that children love and adults find lip smacking. This is made using 100% organic ragi rava from Organic Wisdom, with traceability to the farmers.
BENEFITS
GLUTEN FREE, helps to ease digestive disorder symptoms
CALCIUM RICH, great for stronger bones & healthy nerve functions
HIGH PROTEIN helps in speedy recovery after injury & maintaining a healthy weight
HIGH DIETARY FIBRE, aids in easy digestion and weight loss
Rich in NATURAL IRON helps in preventing anaemia
Ragi Dosa Ready Mix makes for an easy, quick and nutritious meal. Organic Wisdom's Ragi Dosa Mix and ready to use Ragi Idli Mix have been making lives easier and meals supremely nourishing for all working parents and their families. You can check quick recipe for ragi dosa right here.
Categories : Ragi(Nachni, Fingermillet), Healthy Breakfast, Ragi Dosa, Ready to cook meals, Ragi Rava, Gluten Free, Super food for kids, Diet Food, Low GI, Organic Millets
Why Us?
Highlights
Ingredients
Reviews
Why Us?
High quality millets are sourced from Solapur district, dryland region of Maharashtra. Our millets are 100% organic - naturally grown and residue free. You can order instant ragi dosa mix online with our online organic store and get it delivered at your doorstep being assured of superior quality.
Highlights
Natural Farming
0% Preservatives
0% Colours
0% Flavours
Ingredients
Finger Millet (Ragi Rava), Split Black Gram Lentils (Urad Dal), Rice
Reviews
Share
View full details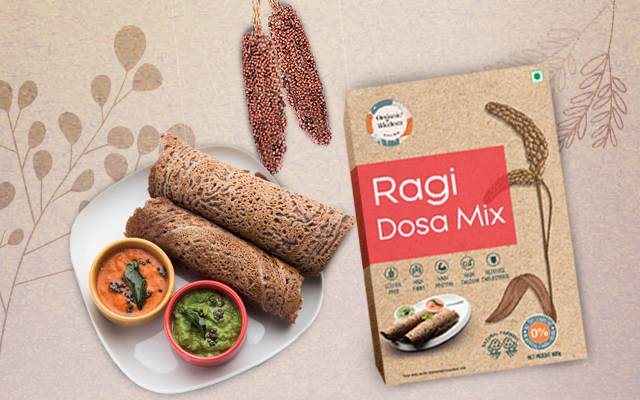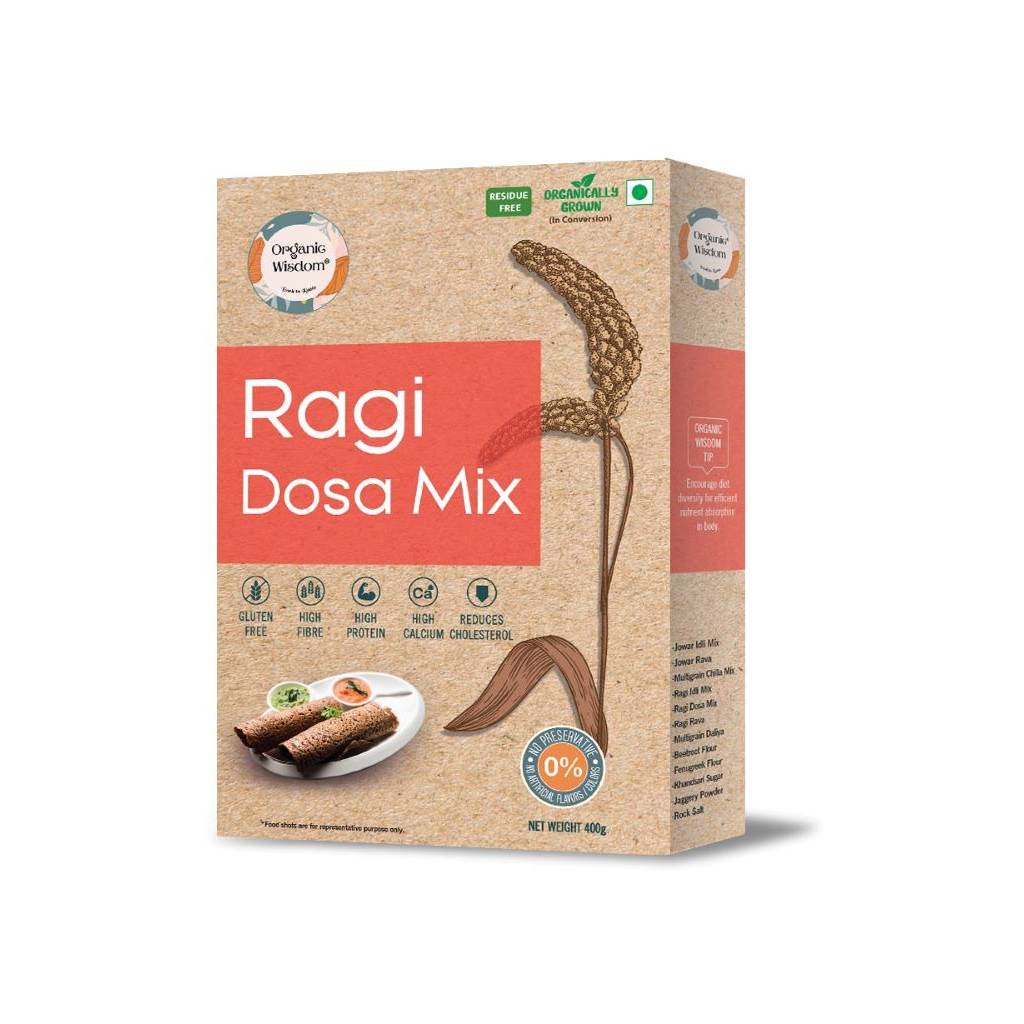 Recipe
Ragi Dosa Recipe
Make a healthy start of your day with Organic Wisdom's Ragi Dosa Mix; it's not only nutritious but delicious too. It is loaded with Calcium, Iron and goodness of all essential nutrients.
Preparation time: 1 hour
Cooking time: Just gets ready in 20 minutes
View Recipe