Regular price
Rs. 260.00
Sale price
Rs. 250.00
Unit price
per
Sale
Sold out
Organic Wisdom's Ragi Idli Mix is made from 100% organic & gluten free Ragi. Ragi (Nachni/ Finger Millet) is popularly known as magical millet because of the umpteen number of health benefits that it offers. This instant mix makes for an easy, delicious meal to keep your family highly nourished.
BENEFITS
Supports cell regeneration as it is RICH in CALCIUM and IRON
Excellent for people on DIET as it helps to manage weight & lower cholesterol level.
Besides strengthening muscles, Ragi also nourishes hair naturally and prevents from greying as it's rich in PROTEIN
Recommended alternate to GLUTEN INTOLERANT people, gluten is a protein component which may interfere with digestion & can cause gastric issues.
ANTIOXIDANTS & AMINO ACIDS in Ragi helps in relaxing mind
For other ragi recipes such as ragi halwa, ragi laddoos, ragi upma, ragi dhokla, you can get organic ragi rava online.
Categories : Ragi(Nachni, Fingermillet), Healthy Breakfast, Ragi Idli, Ready to cook meals, Ragi Rava, Gluten Free, Super food for kids, Diet Food, Low GI, Organic Millets
Why Us?
Highlights
Ingredients
Reviews
Why Us?
Bringing the world of traditional wisdom and modern lifestyle together, we offer ready to cook meals which are 100% organic - naturally grown and residue free. All our produce can be tracked back to the farmers. With our online organic store, you can easily order nutrient rich millets and instant meals at a click.
Highlights
Natural Farming
0% Preservatives
0% Colours
0% Flavours
Ingredients
Reviews
Share
View full details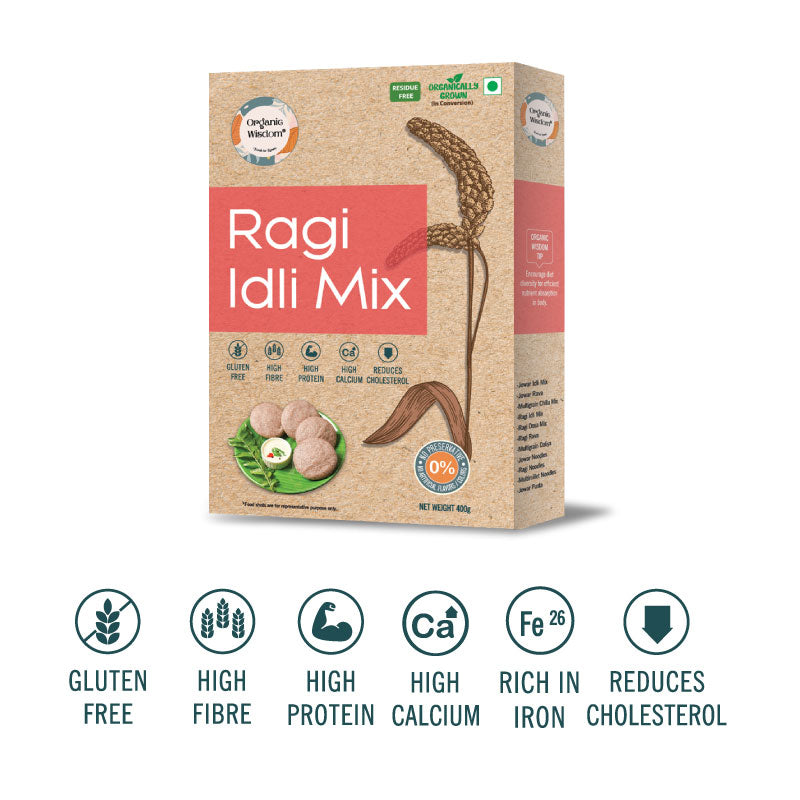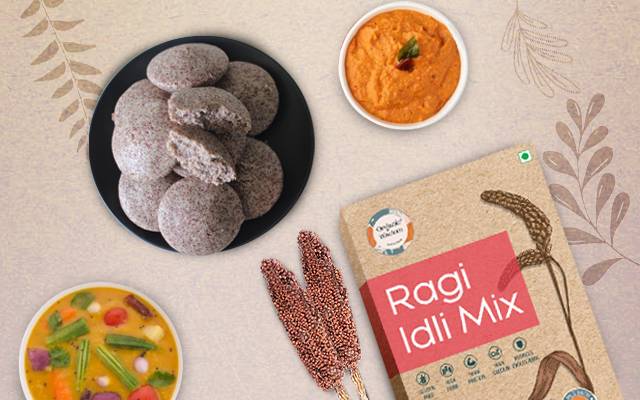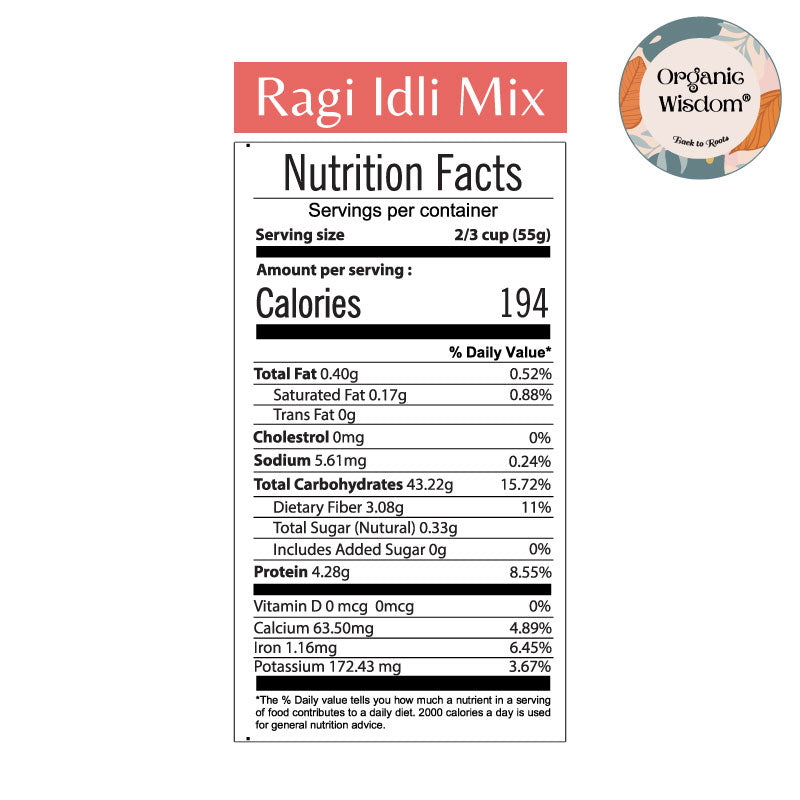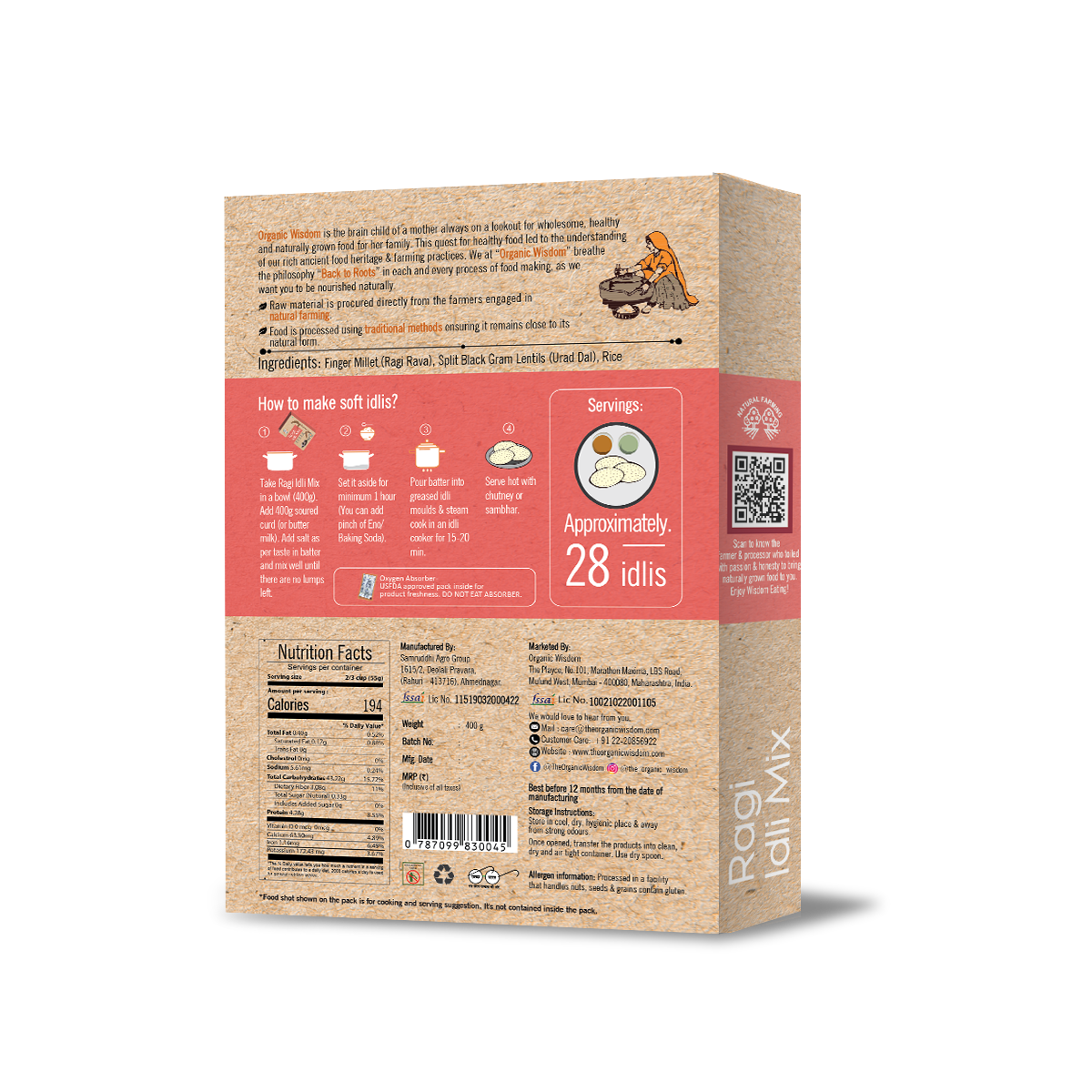 Recipe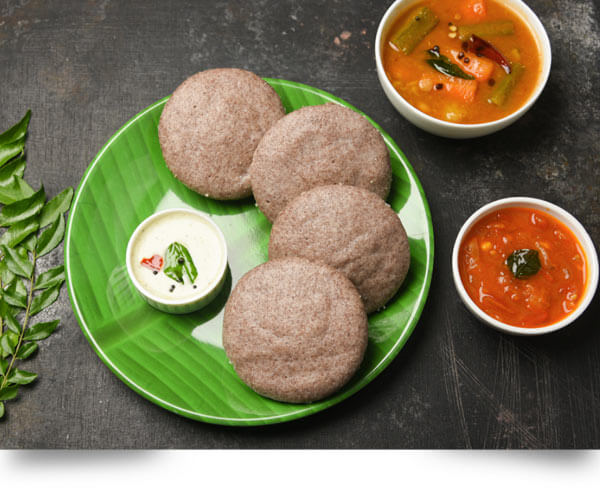 Ragi Idli Recipe
Nutritious and tasty Ragi Idli can be a perfect way to start your day. Ragi (Finger Millet) is the powerhouse of calcium, iron & many other essential micro-nutrients. With Organic Wisdom's Ragi Idli Mix, you can effortlessly and conveniently include this magical millet into your diet.
Preparation time: 1 hour
Cooking time: Just gets ready in 20 minutes
View Recipe