Regular price
Rs. 280.00
Sale price
Rs. 220.00
Unit price
per
Sale
Sold out
Organic Wisdom's Multi Millet Pasta is an excellent choice for health-conscious consumers. This pasta is crafted from a blend of multiple nutrient-rich major & minor millets like finger millet, pearl millet, sorghum, foxtail, kodo, foxtail and barnyard millet. Besan has been added to increase protein component in pasta. It's high-fiber alternative to traditional wheat pasta. Rich in essential vitamins, minerals, and dietary fiber, it promotes better digestion and offers sustained energy. The use of organic ingredients ensures a pure, chemical-free product. For those seeking a tasty and nutritious pasta option, Organic Wisdom's Multi Millet Pasta is a smart and sustainable choice.
BENEFITS
Nutrient-Rich: Millets are nutritionally providing nutrients like fiber, vitamins (especially B vitamins), and minerals such as magnesium, phosphorus, and iron.
High in Fiber: Helps in digestion, promote a feeling of fullness, and support overall gut health.
Rich in Antioxidants: Helps combat oxidative stress and reduce the risk of chronic diseases.
Low Glycemic Index: Lower GI compared to wheat, which means they can help regulate blood sugar levels. This makes multi-millet pasta a good choice for people with diabetes or those looking to manage their blood sugar.
While multi-millet pasta offers these benefits, it's essential to remember that the taste and texture may differ from traditional wheat pasta. It's a good idea to experiment with different recipes and cooking methods to find the best way to enjoy multi-millet pasta to your liking. Check out multi millet penne pasta recipe here.
Categories: Multi millet penne pasta, finger millet pasta, ragi pasta, foxtail, Foxtail, Kangni Noodles, Multi-Grain Noodles, Wheat Noodles, Millet Noodles, Jowar, Bajra, Ragi, Kodo, Barnyard, Little Millet, Hakka Noodles, Protein Rich Food, Super food for kids, Diet Food, Low GI, Organic Millets, Wheat alternative, Healthy meals, macaroni
Why Us?
Highlights
Ingredients
Reviews
Why Us?
Organic Wisdom's Multi Millet Penne Pasta is crafted using traditional methods by handpicked farmers. Our organic, gluten-free pasta blend offers a low-GI, high-fiber option for health-conscious consumers. Discover whole range of organic & gluten free millets in delicious & easy to make pre-mixes on our online organic food store.
Highlights
Natural Farming
Indian Superfood
0% Preservatives
0% Colours
0% Flavours
0% Maida
0% Added MSG
0% Trans Fat
Ingredients
Pasta: Finger millet flour, Pearl millet flour, Sorghum millet flour, Kodo millet flour, Barnyard millet flour, Little millet flour, Foxtail millet flour, Whole wheat flour, Besan gram flour, Cluster bean powder (natural gum), Iodized salt
Tastemaker: Coriander seeds powder, red chilli powder, onion powder, garlic powder, ginger powder, cumin, turmeric, curry leaves, fennel seeds, black pepper, cassia, bay leaves, fenugreek, star aniseed, clove, nutmeg, salt, unrefined cane sugar, acidity regulator(INS330)
Reviews
Share
View full details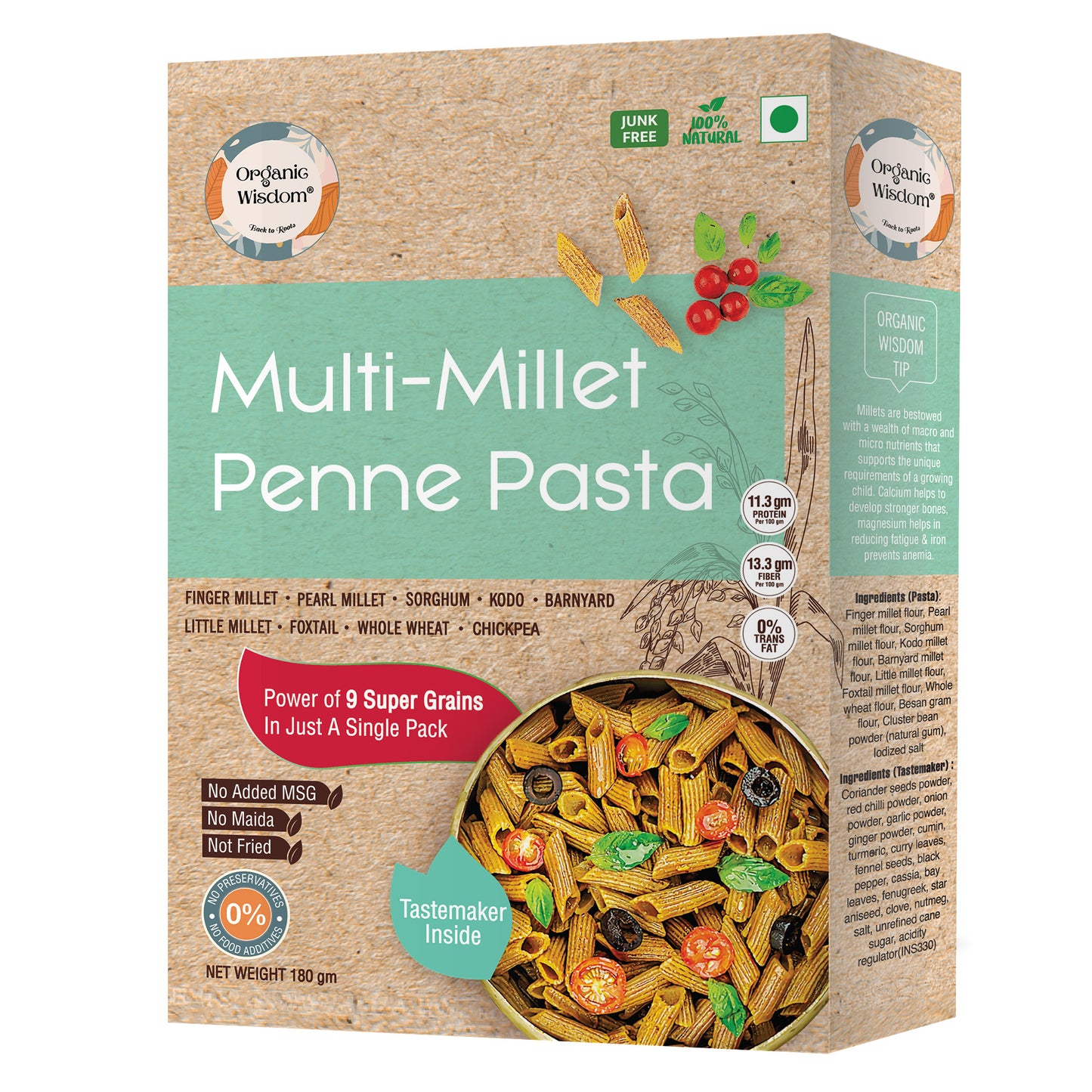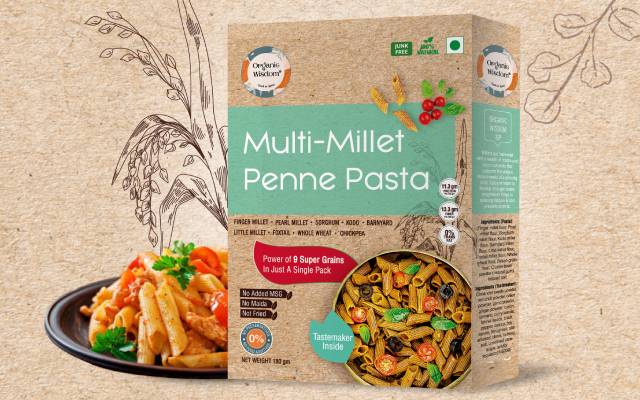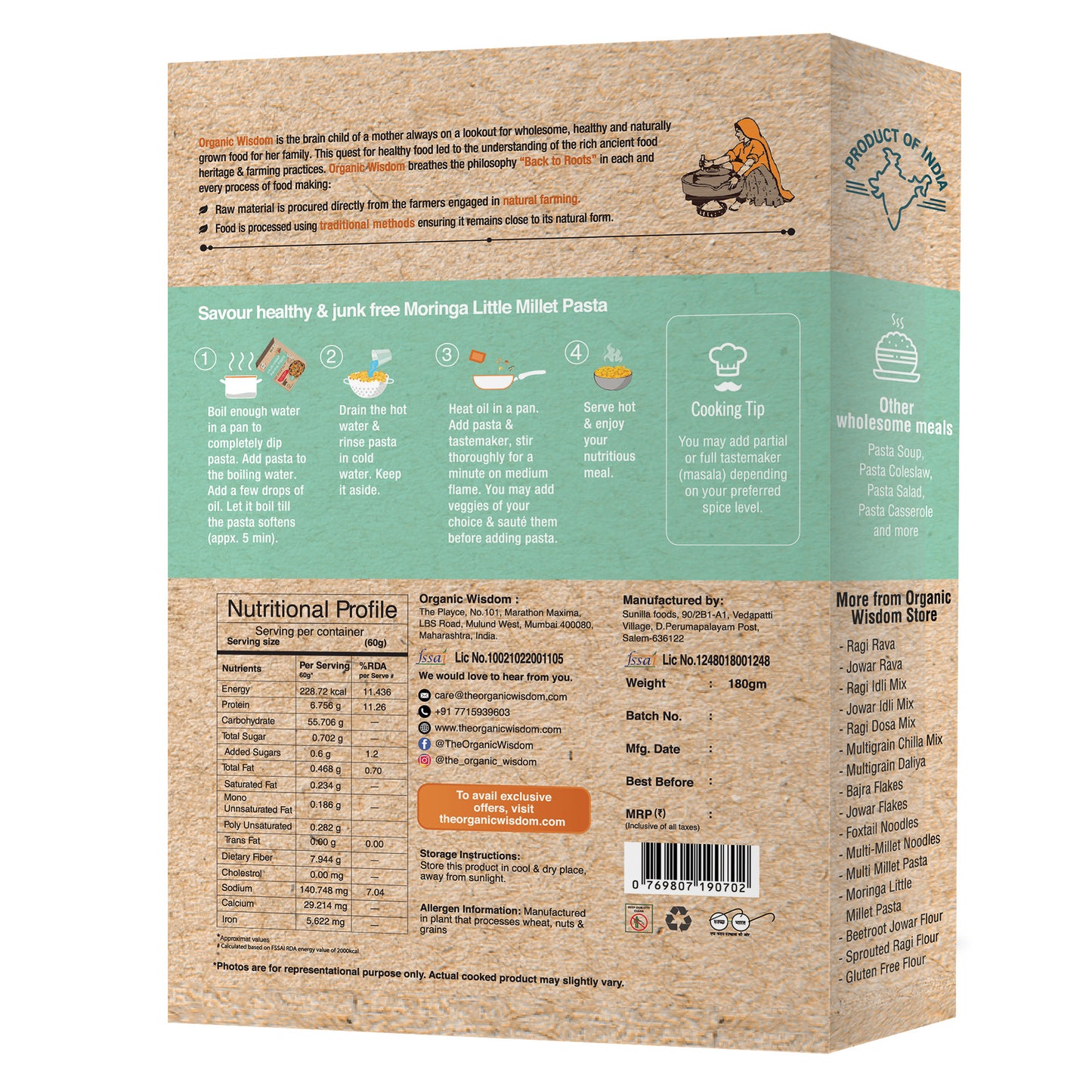 Recipe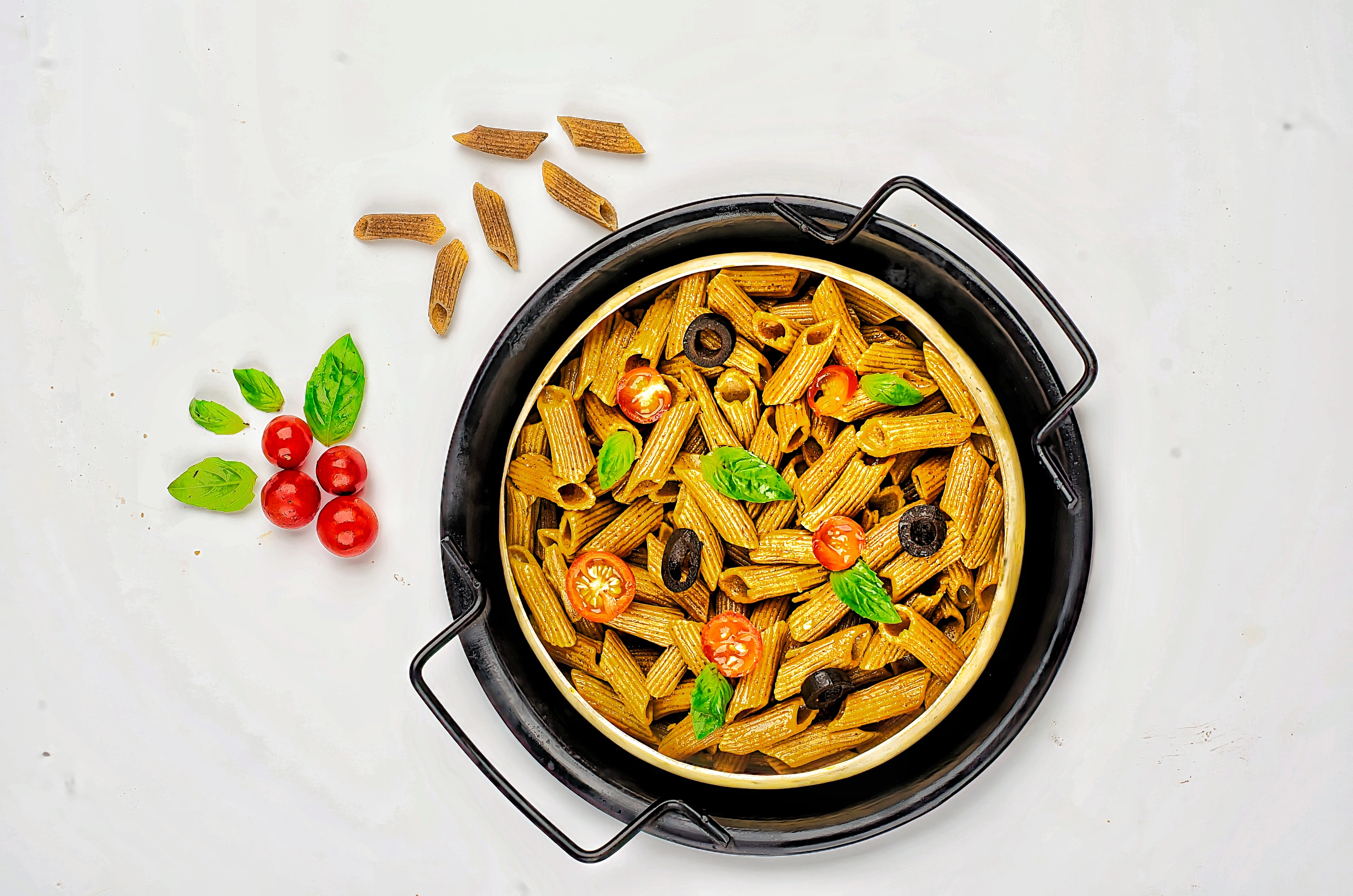 Multi-Millet Penne Pasta Recipe
Multi-Millet Penne Pasta is a fresh & healthy alternate to regular noodles. Goodness of millets coupled with the fact that these are free from Maida, MSG and are not fried make them super healthy yet yummy meal for you and your home. Organic Wisdom's multi millet penne pasta is of supreme quality comes with a tastemaker made from ayurvedic spices.
View Recipe